What we do
Dynamic data storytelling
Present your unique findings as an engaging, visual story and get more people on the same page
Used by local government, commercial and not-for-profit organisations who want to tell better stories with their data, OrbViz is customer-centric, customisable, easy to use, requires very little training and offers detailed analytics from a dedicated URL.
With OrbViz, it's easy to deliver your data as an engaging visual story, getting more people on the same page faster, enabling informed discussions leading to improved public relations and better decision-making.
Give people personalised access to rich insight so they find 'Aha!' faster
Measure engagement
Understand how, where and when your stakeholders engage with your information, and what they care about.
Speed to insight
Help more people get to 'Aha!' sooner through user-led, interactive data visualisation and immersive storytelling. Leap from macro to micro insights at a click.
Cater for all stakeholders
People across all organisations want the flexibility to find the story that best suits their needs. OrbViz lets you customise applications to suit specific audiences with ease.
Richer feedback
When people engage with your findings on a deeper level, you receive better feedback to start new conversations, bring people on the journey and make more informed decisions.
Breadth of understanding
Communicating data in relevant and meaningful ways creates richer narratives and drives exploration, understanding, transparency and trust with a wider audience.
Reach more people more often with products that grab eyeballs and let people create the deep dive that suits their needs
Bubbles
Transform data-driven reporting with an interactive storytelling dimension that converts numbers into easy-to-comprehend, colourful pictures.
TAKE A LOOK
---
Rates Calculator
The platform securely pulls rating data from a council's database and then prompts the user to answer questions about their property and/or area.
SEE IT IN ACTION
We work with organisations that are looking for innovative ways to connect with their stakeholders and provide speed to insight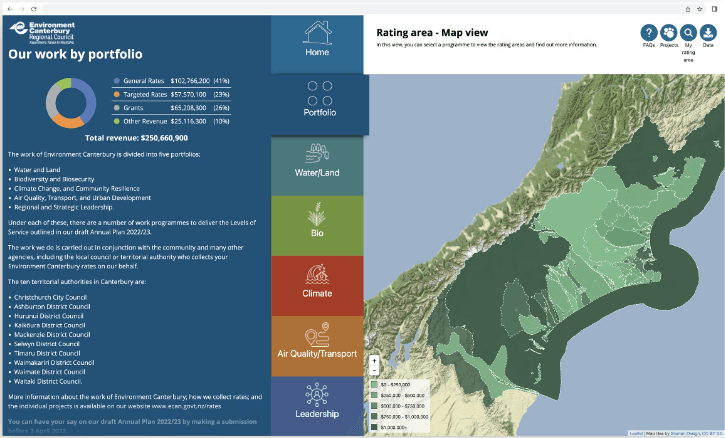 OrbViz for Government
Have better conversations and drive trust through transparency.
LEARN MORE
---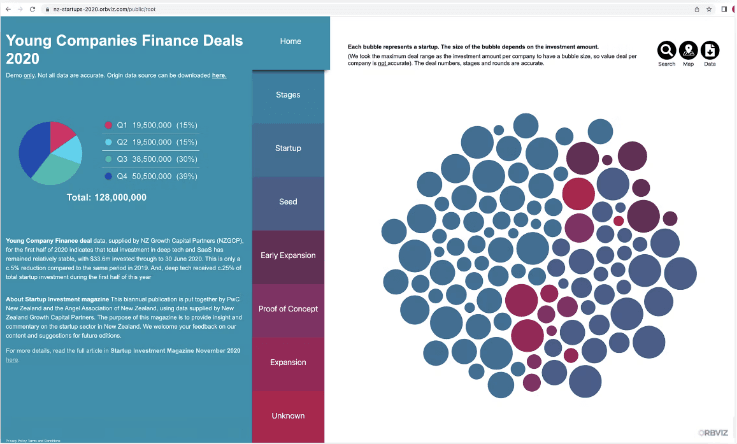 OrbViz for Business
Bring your reports to life and bring your stakeholders to the heart of the matter.
SEE HOW IT WORKS
OrbViz makes your reporting life easyWe'll help you get started so you can create dynamic data-driven stories that engage your audience
We provide any assistance you may need:
Data wrangling
Where necessary, we'll help wrangle your data into the right format.
Data readiness
We'll assist you to make sure your data aligns with the OrbViz data hierarchy.
User training
We provide training workshops to ensure you know what you're doing and set up to succeed.
Implementation
We'll upload your data and content (if required), as well as conduct a pre-launch review with you.
---
What about on-going support?
We won't just set you up and leave you, we'll come along for the ride too! You can raise support requests through the OrbViz builder or contact our team for help throughout your journey.